CUSTOM TENT PACKAGES
CUSTOM TENT PACKAGES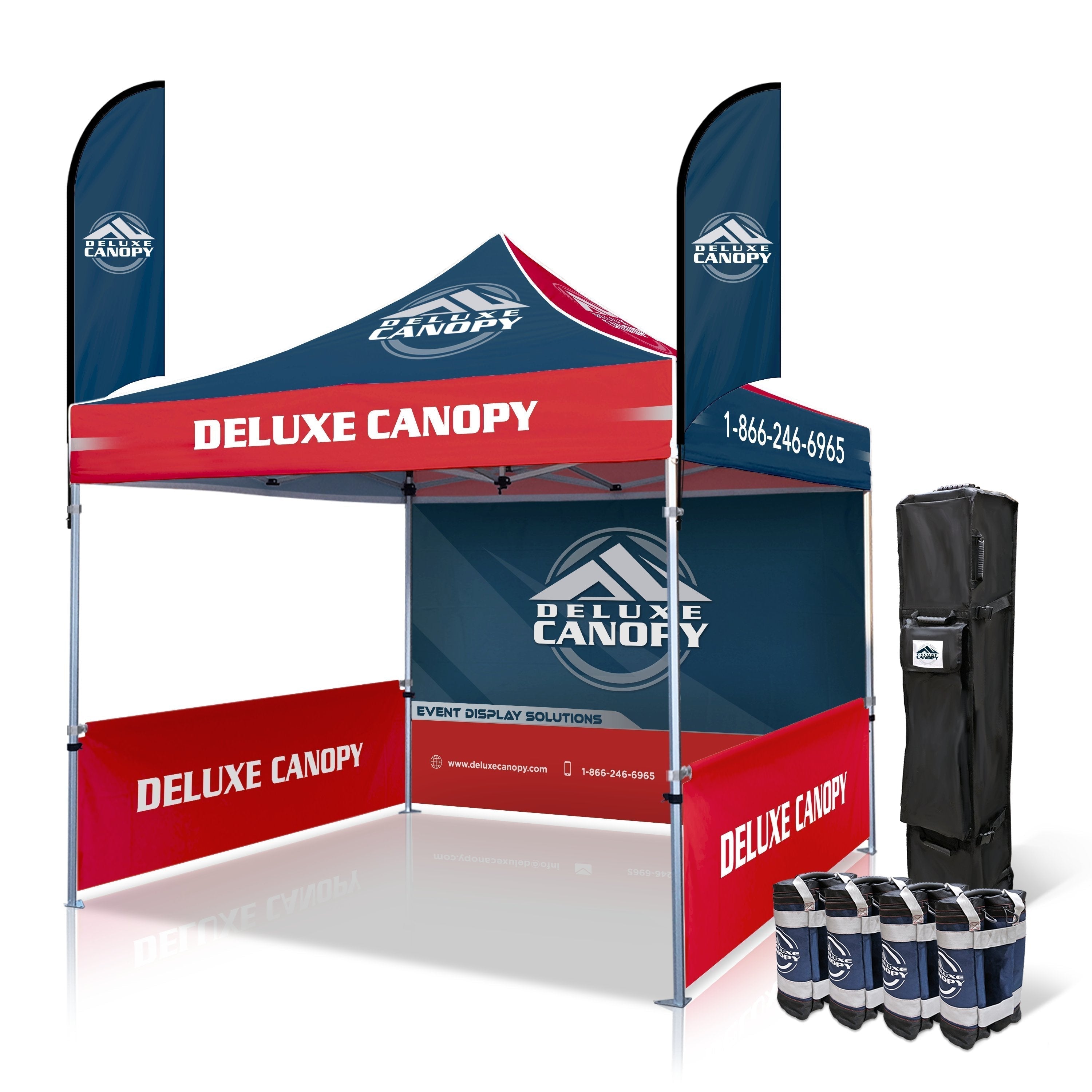 CUSTOM CANOPY TENT PACKAGES - PERSONALIZED AND BRANDED TENTS FOR ANY BUDGET
Make a lasting impression and captivate your target audience with a custom printed pop-up tent packages with your graphics. At Deluxe Canopy®, we understand that a custom made canopy is a big investment for your business or organization so you can be rest assured that you are getting the best custom tent for your needs. We use the highest quality materials to manufacture professional grade promo tents that are fully customizable and printed with your brand logo, colours and lettering. With so many sizes, add-ons and designs available, you're sure to find a package solution that suits your preference. Our custom printed canopy tents are ideal for trade shows, festivals, sporting events, product promotions and so much more. We offer complete booth packages to customers with small and big budgets. Whether you're seeking a temporary branded canopy for a special event or a shelter for frequent use, we've got you covered!
Custom canopies provide many advantages. From protection against excessive sun heat and inclement weather to protecting your equipment and products. When shopping for a vendor canopy, the high-level exposure that's achieved with your branding assets tops the list. With our unlimited printing option, you can transform the canopy top and side panels into your own unique advertising tent that captures the attention of your target audience.
CUSTOM CANOPY TENT ORDERING PROCESS
Deluxe Canopy® makes the ordering process of a custom tent package simple. Once we receive your graphics and art, our in-house designer will work closely with you to turn your ideas into a stunning mock-up design. To assist you in selecting a suitable tent, we have outlined the most important factors to consider. 
STEP 1: DETERMINE THE APPROPRIATE SIZE
The first step in choosing a canopy tent is determining which size will best suit your needs. We offer the most extensive selection of tent sizes in the industry for events and spaces small and large. Our custom tent sizes include:
5ft x 5ft: An ultra-small tailgate canopy tent ideal for confined spaces. 
8ft x 8ft: A small tent that is ideal for outdoor activities and sporting events. 
10ft x 10ft: Our most popular size, a compact tent that is ideal for 4 people, 2 chairs and one small table. 
10ft x 15ft: Boasts a wide front that is best suited for small to medium spaces. Perfect for motor sports, product promotions and food stands.  
10ft x 20ft: A large size tent with a wide front, perfect for outdoor events and large booth spaces. 
13ft x 13ft: A convenient and versatile size, ideal for small booth spaces and travel. 
13ft x 20ft: Offers good depth and a wide front, great for big events, large sports teams and inviting visitors inside.
13ft x 26ft: A spacious size, perfect for festivals, outdoor activities, large teams and a surplus of staff or volunteers.
20ft x 20ft: Our largest size, a spacious tent ideal for outdoor parties, dealerships and motor sport shows.
STEP 2: SELECT THE RIGHT FRAME 
Now that you have decided on your canopy tent size, you can choose a frame model based on the intended use. Your tent's frame profile will determine its strength and weight. Canopies with heavier frame profiles are made from higher-grade materials that are designed for maximum durability. Tents with lighter frame profiles are easier to move and set up, but they don't possess the same level of sturdiness as heavier models. Deluxe Canopy® offers frames for every occasion and budget.
OUR FRAME MODELS:
Pro Series: Lightweight steel range, ideal for light to moderate business use.
Elite Series: Heavy duty steel range, ideal for frequent and intensive commercial use.
EcoShade-40: Lightweight aluminum range, ideal for occasional indoor and outdoor use. 
ProShade-40: Commercial grade aluminum pop up canopy tent that is ideal for all types of weather conditions and terrains.
ProShade-50: Professional grade aluminum pop up canopy tent that is designed to handle the impact of various weather conditions and terrains. Ideal for intense professional use.
STEP 3: SELECT THE RIGHT TENT PACKAGE
The third step is to choose a custom tent package that suits your preference. The package that you choose determines the add-on options that will be included with your purchase. If you don't find a package that meets your requirements, please reach out to us and we will tailor a package for you. 
STEP 4: RECEIVE YOUR FREE MOCK-UP PROOF
To create your mock-up proof, we require your artwork including your logo, graphics, and lettering for brand slogan or tagline and contact details (if desired). You may upload your artwork directly from the product page or you can send us your artwork by email to receive a complimentary 3D visualization of your business logo tent. Your artwork should be in vector format. AI, EPS and PDF files are accepted. If you don't have art files in these formats, Our designer can convert your logo to vector. We uphold stringent art standards in order to achieve the best printing results.
STEP 5: CUSTOMER APPROVAL, PAYMENT & PRODUCTION
The final step is signing off and approving the proof. Once you approve the proof and we receive your payment, your project goes into production which takes 6 business days. Please note that design edits can't be made once the printing process commences. We encourage you to check the design carefully and ensure you are satisfied with the colours, graphics quality and art placement. 
THE DELUXE CANOPY® ADVANTAGE
At Deluxe Canopy®, we utilize the highest quality ink that prevents fading and only use premium 600 Denier polyester fabric that is fire-rated, waterproof and UV resistant. Our tent selection is available in various sizes and we could print any graphics on the tent to maximize your visibility. Unlike our competitors, we offer free shipping on all packages and we allow you to print unlimited graphics on the canopy top peaks, valances and walls at no extra cost. Want to add heavy duty zippers to create a full enclosure and stop rain from getting in your booth? We've got you covered! Custom canopies and custom tents are excellent promotional display booths that make your business or club stand out. At Deluxe Canopy®, we offer the highest quality digital printing on the market at unbeatable prices and quick turnaround times. Our custom canopies are vibrant, dynamic and are guaranteed to exceed your expectations. We can print simple logos, graphics and text to sophisticated designs on the instant canopy fabric to create the ultimate personalized outdoor shade. Custom tent walls, custom feather flags, custom table covers and retractable roll up banners can also be purchased in conjunction with printed tents. These promotional items add the perfect finishing touch to your custom tent set up. 
Pop up canopies are extensively used at craft shows, parties, corporate events, sporting and racing events. Not only do our branded logo tents provide excellent protection from the elements, they are also durable, compact and designed with portability in mind. Our pop up tents can be set up in 60 seconds and can be easily transported to your event using the provided wheeled trolley case. With an extensive range of tent packages, our customized canopies are highly effective in promoting your business. With a branded pop up tent from Deluxe Canopy®, vendors are able to set up their booth hassle-free. Our personalized tents effectively assist in showcasing our customers' products and services. Participate in your next marketing event with an extraordinary advertising booth that will make your brand shine over your competitors and display your unique edge!
WORLD-WIDE SHIPPING
We ship both domestically and internationally to the United States, Canada and international destinations. With fast turnaround times and processing times, you can receive your tablecloth at your doorstep quickly with tracking details.