10x20 TRADE SHOW BOOTHS
10x20 TRADE SHOW BOOTHS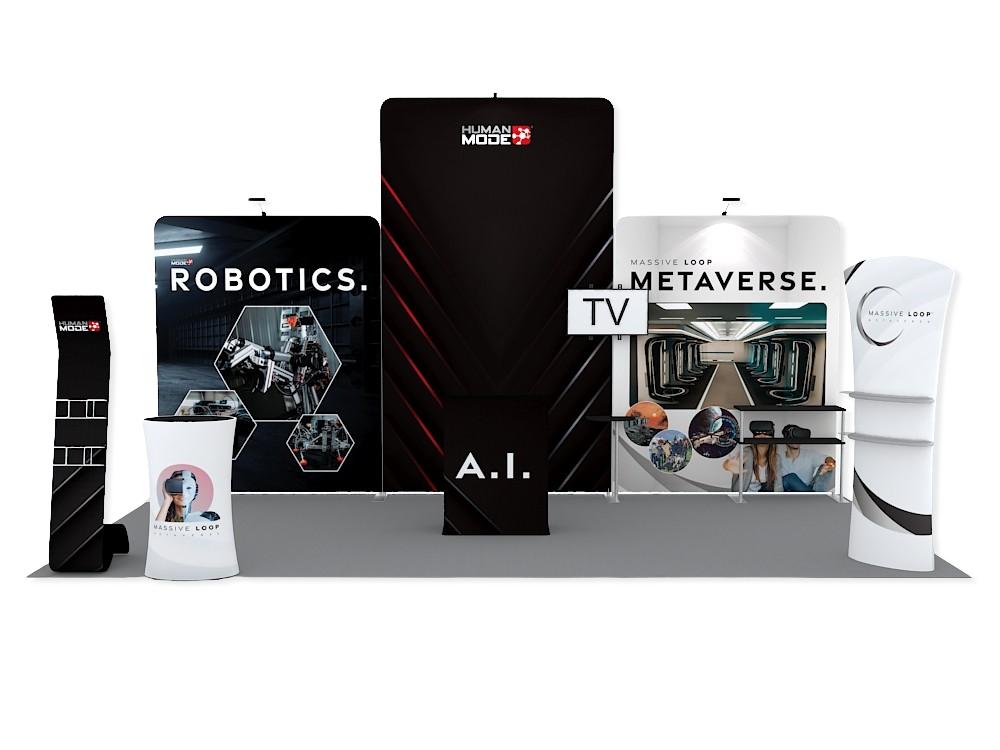 DELUXE CANOPY CUSTOM EXHIBITION BOOTHS
Create memorable brand experiences and promote your products or services with this modular and portable exhibition booth by Deluxe Canopy®.
High-strength, lightweight, snap-tube installation allows for quick, hassle-free assembly without the need for tools.
Perfect for trade events and exhibits, Deluxe Canopy Custom Exhibition Booths can be fully personalised to include your logo, graphics, and marketing message so you can highlight your brand and engage with your audience.
We can print both straightforward and intricate bespoke designs to help you gain more visibility and make sure you stand out from your rivals. For easy transportation to and from conventions, our display booth package comes with a sturdy box with a podium.
TELL YOUR STORY WITH CUSTOM EXHIBITION BOOTHS
Your story is much more than just the history of your company; it's also how your customers and visitors view your name, your goods, and your services. It is possible to convey concise messages about your company and ensure that your visitors have a solid understanding of your brand identity by maintaining a consistent appearance at various events.
STAND OUT FROM THE COMPETITION
The first impression is crucial, and your booth will help distinguish you from other exhibitors at different trade exhibitions by making a long-lasting impression. You can concentrate on the distinctiveness that your brand gives with the aid of your exhibit space.
UNMATCHED DURABILITY
A well-designed display booth can be utilised for a number of trade fairs throughout time, making it a very successful and economical marketing tool. Many booths are modular, enabling you to change the layout of your exhibition stand and customise it for the events or trade exhibitions you attend.
MARKETING MESSAGING
By describing your essential themes and the advantages your firm will provide to visitors, your exhibition booth will support the presentation given by your sales professionals during trade shows. The promotional items you have in your display booth will support the messages you're trying to get across.
GLOBAL SHIPPING INCLUDING US AND CANADA
Ship your table covers directly to you free with Deluxe Canopy. We ship both domestically and internationally including Canada, United States, and all over the world.   With fast turnaround times and processing times, you can have your choice tablecloths at your doorstep complete with order tracking.